Alfonso XIII 1886 - 1898
Alfonso XIII (Alfonso León Fernando Maria Jaime Isidro Pascual Antonio de Borbon y Austria-Lorena); when anglicised Alphonse Leon Ferdinand Mary James Isidor Pascal Anthony of Bourbon and Austria-Lorraine (May 17 , 1886 – February 28 , 1941), King of Spain, posthumous son of Alfonso XII of Spain, was proclaimed King at his birth. He reigned from 1886-1931. His mother, Queen Maria Christina, was appointed regent during his minority. In 1902, on attaining his 16th year, the King assumed control of the state.
Although Alfonso's reign would not end well, it began well. The French newspaper Figaro described the young king as "the happiest and best loved of all the rulers of the earth." When he came of age in 1902, the week of his accession to the throne was marked by a week of festivities, bullfights, balls and receptions throughout Spain.
During his reign Spain lost its last colonies in the Americas (Cuba and Puerto Rico) and the Philippines; fought and, after several setbacks, won a war in Morocco; witnessed the start of the Spanish Generation of 1927, and endured the dictatorship of Miguel Primo de Rivera, which ultimately cost him the throne.
 1 CENTAVO PESO
PATTERN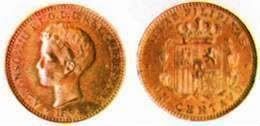 1894, Manila
2 CENTAVOS DE PESOS
PATTERN
1894, Manila
4 PESOS
PATTERN
 UN PESO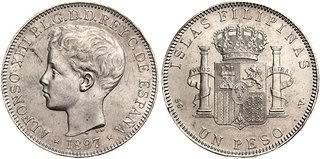 1897 SGV, Manila
Mintage: 6,000,000
  MEDALS
Exposicion Regional de Filipinas
1895, Manila
Next Page Emilio Aguinaldo 1898-1902